Experience delectable delights
There are several factors that combine into making dining out a variable experience: the guests, the service, a lively menu, quality of food and of cource pricing. Within such a short time, Horizon Hills Golf & Country Club established itself not just as an important golf venue but boasting F&B outlets with delectable delights.
Golfers' Terrace
Say hello to the Golfers' Terrace. Here the staff at The Terrace are always on standby to serve golfers rushing for a quick meal before teeing off and for those wishing to relax and unwind after five grueling hours on the fairways and greens. Because of its unique location within the Iskandar Development Region, Horizon Hills has become a favorite with the residents and even among corporates who have found that dining here during lunch is more than just an in-thing – this outlet has a wide variety of mouth-watering dishes of the highest quality.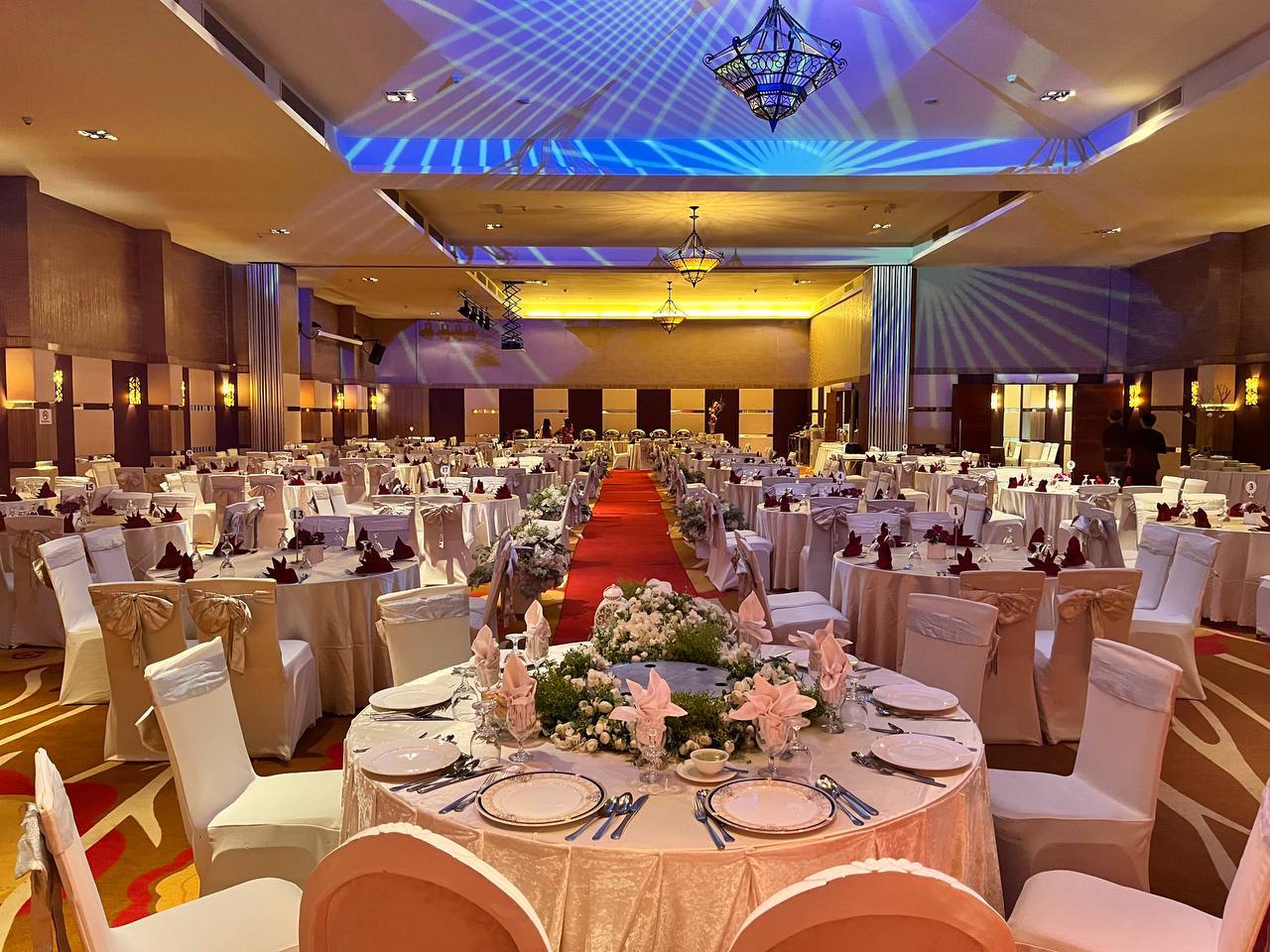 The Horizon Ballroom is an impressive state-of-the-art venue that caters to entertainment and formal events. It is a great place for a tournament's prize-giving lunch or dinner as it can take up to 450 persons. The Ballroom is well-equipped with a grand stage, two drop-down projector screens, lighting and sound systems.
The Ballroom can be partitioned into smaller halls for seminars, conferences or board meetings with capacities ranging from 30 to 300 persons.
Everything about the Horizon Ballroom smells of luxury and class. Despite buffet lines that cater for up to 450 persons, the food is surprisingly delicious. Choose from a variety of packaged menus or speak to the Master Chef for a more personalized menu.
NAME OF VENUE
HALL
BALLROOM
HORIZON 1 & HORIZON 2
BALLROOM
HORIZON 1
BALLROOM
HORIZON 2
GOLFERS' LOUNGE
GOLFERS' TERRACE
TYPE OF VENUE
INDOOR – ROOM
INDOOR – ROOM
INDOOR – ROOM
INDOOR – ROOM
OUTDOOR - ROOF
MEASUREMENT
(Sq. Ft.)
6,050 (Sq. Ft.)
(65.5'W X 103.8'H)
– 748.6 Sq. Ft. (Foyer)
4,301 (Sq. Ft.)
65.5'W X 65.8'H
1,900 (Sq. Ft.)
38'W X 50'H
2,813.5 (Sq. Ft.)
51'W X 55.17'H
5,240 (Sq. Ft.)
40'W X 131'H
BANQUET ROUND
TABLE
(BUFFET SETUP)
40 RT / 400 P
Accommodates up to
1,200 P
for stages entry
25 RT / 250 P
Accommodates up
to 600 P
for stages entry
12 RT / 120 P
Accommodates up
to 250 P
for stages entry
15 RT / 150 P
Accommodates up
to 350 P
for stages entry
35 RT / 350 P
Accommodates up to
1000 P
for stages entry
BANQUET ROUND
TABLE
(DOME SETUP)
45 RT / 450 P
30 RT / 300 P
15 RT / 150 P
20 RT / 200 P
40 RT / 400 P
BANQUET LONG
TABLE
*56 OT / 280 P
*36 OT / 180 P
20 OT / 100 P
24 OT / 120 P
*40 OT / 200 P
STANDING COCKTAIL
*75 CT / 300 P
*50 CT / 200 P
*20 CT / 80 P
*25 CT / 100 P
*75 CT / 300 P
THEATRE
*800 C / 800 P
*500 C / 500 P
200 C / 200 P
300 C / 300 P
*700 C / 700 P
CLASSROOM
*200 P
*140 P
*45 P
*100 P
-
BOARDROOM
70 P / 170 P
40 P / 100 P
30 P / 50 P
30 P / 50 P
-
U-SHAPE
65 P / 165 P
35 P / 90 P
25 P / 45 P
25 P / 45 P
-
CLUSTER
200 P
150 P
60 P
70 P
-
NAME OF VENUE
HALL
BALLROOM
HORIZON 1 & HORIZON 2
BALLROOM
HORIZON 1
BALLROOM
HORIZON 2
GOLFERS' LOUNGE
GOLFERS' TERRACE
TYPE OF VENUE
INDOOR – ROOM
INDOOR – ROOM
INDOOR – ROOM
INDOOR – ROOM
OUTDOOR - ROOF
MEASUREMENT
(Sq. Ft.)
6,050 (Sq. Ft.)
(65.5'W X 103.8'H)
– 748.6 Sq. Ft. (Foyer)
4,301 (Sq. Ft.)
65.5'W X 65.8'H
1,900 (Sq. Ft.)
38'W X 50'H
2,813.5 (Sq. Ft.)
51'W X 55.17'H
5,240 (Sq. Ft.)
40'W X 131'H
BANQUET ROUND
TABLE
(BUFFET SETUP)
40 RT / 400 P
Accommodates up to
1,200 P
for stages entry
25 RT / 250 P
Accommodates up
to 600 P
for stages entry
12 RT / 120 P
Accommodates up
to 250 P
for stages entry
15 RT / 150 P
Accommodates up
to 350 P
for stages entry
35 RT / 350 P
Accommodates up to
1000 P
for stages entry
BANQUET ROUND
TABLE
(DOME SETUP)
45 RT / 450 P
30 RT / 300 P
15 RT / 150 P
20 RT / 200 P
40 RT / 400 P
BANQUET LONG
TABLE
*56 OT / 280 P
*36 OT / 180 P
20 OT / 100 P
24 OT / 120 P
*40 OT / 200 P
STANDING COCKTAIL
*75 CT / 300 P
*50 CT / 200 P
*20 CT / 80 P
*25 CT / 100 P
*75 CT / 300 P
THEATRE
*800 C / 800 P
*500 C / 500 P
200 C / 200 P
300 C / 300 P
*700 C / 700 P
CLASSROOM
*200 P
*140 P
*45 P
*100 P
-
BOARDROOM
70 P / 170 P
40 P / 100 P
30 P / 50 P
30 P / 50 P
-
U-SHAPE
65 P / 165 P
35 P / 90 P
25 P / 45 P
25 P / 45 P
-
CLUSTER
200 P
150 P
60 P
70 P
-